by Audrey Bragg
"I think it's just my personality that allows me to be fearless and put myself in gender-unbalanced situations," says Stephanie Bassler. "I am doing my best, and I let that speak for itself." How many of us have heard women's stories similar to Stephanie's?
To celebrate Women's History Month, my staff asked women to reflect on their career roles in energy efficiency (EE). We are honoring the women of the thriving U.S. EE industry. With this sector projected to grow fast, it will offer millions of good jobs for years to come[i]–and to more women than you might imagine.
As of 2018, women make up only 23% of the field[ii]. However, by all accounts women are essential to the industry's vitality.
Strong U.S. Leaders Set the Tone

Women run major EE businesses. One is

Pearl Certification

headquartered in Virginia, the nation's only private certification firm to sponsor the U.S. Department of Energy's Home Performance with ENERGY STAR program. Pearl owes much of its success to co-founder and CEO Cynthia Adams.

For many women who are now leaders, their path has at times felt more like an obstacle course.

In a March 2018 Detroit Free Press interview, Carla Walker Miller of Walker-Miller Energy Services described her challenging journey from engineering to entrepreneurial legend: "The construct said I had to wait for a slot that would open every five or 10 years that would accommodate a black female and the right manager." Rather than waiting for such a position, Carla started her own energy waste reduction business, which now employs 110 people and generates $24 million of revenue annually.

We Can Do It!
Across the country women have found good jobs in the EE industry. Faces of EE highlights hundreds of women EE professionals in 43 states and the District of Columbia. Among their key roles, women perform energy audits, develop new technologies, and own and operate businesses.

I sought insight about the day-to-day experiences of women working for cleaner air, more comfortable homes, and lower energy bills. We captured testimonials that document rewarding careers. Three notable EE leaders took the time to speak with us, each of whom encourages more women to seek opportunities in this growing field.

Three Women's Stories: Arizona, Illinois, New York
Elena Chrimat is co-owner and co-founder of Ideal Energy AZ. Her Arizona business specializes in making homes more efficient by providing full HVAC service, maintenance, and repairs as well as new installations.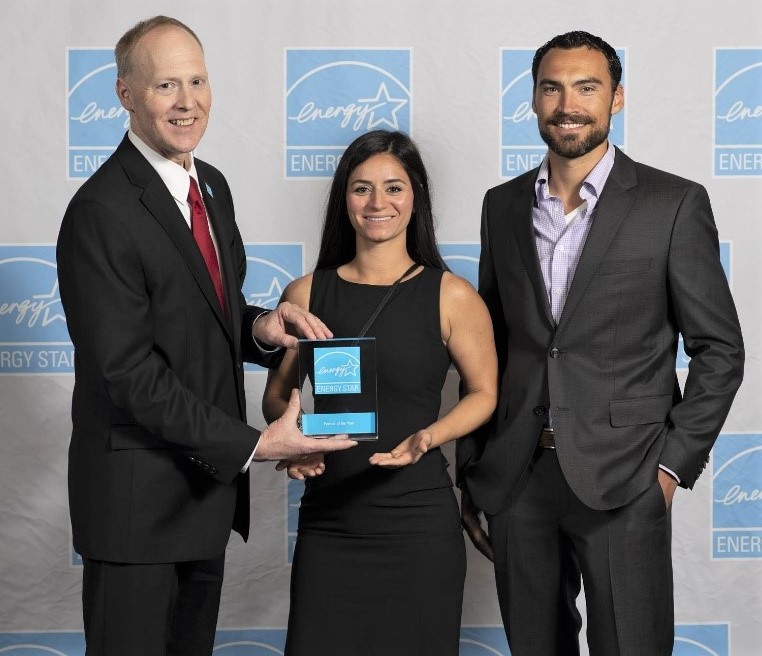 Elena conducted the company's first energy audit in 2009. She enjoys helping the company to grow. Ideal Energy AZ is a highly-ranked business (as of today, 5 stars on Facebook; 4.9 stars on Google with 63 reviews) that employs more than a dozen people. Elena feels that the most gratifying aspect of her job is receiving feedback from customers about improved quality of life and lower bills following HVAC installation or service. There's only one other woman at the company, and Elena has grown accustomed to some of the challenges of working in a field dominated by men.
"Initially you have to work harder to establish trust and prove that you know what you're talking about," she says. "It is sometimes more difficult since a lot of employees are men…I'm not going to let obstacles I face as a woman get to me…You just have to work a little harder."
In 2018 Elena's company received the highest honor from Energy Star. Elena plans to strengthen process implementation to allow the business to run even more smoothly.
Angela Aeschliman is VP of Property and Asset Management at the Missner Group in Chicago. Her work involves everything from managing lease obligations, forecasting operating and capital expenses, working with utilities and rebates, collaborating with owners and investors, and coordinating ongoing efficiency training with her team. She describes her role as involving not only property management, but also people management. Angela feels rewarded when she addresses inefficiencies by saving water and energy in buildings. One of the more difficult aspects of Angela's job is protecting capital for implementing EE measures, as this budget is too often used for unexpected expenses.
"I dream about a day when there is disclosure about energy use in an asset…people don't realize how much payback you can get," Angela says. "Little changes can have a big impact." Angela believes that education about the jobs that exist is essential to encouraging more women to join the industry.
Finally, we spoke with Stephanie Bassler, principal at North River Architecture and Planning, PC (NRAP) in Stone Ridge, New York. NRAP is a full-service architectural practice that specializes in highly energy-efficient design. Stephanie is a registered Architect and a certified Passive House consultant. Many of NRAP's projects are designed to Passive House efficiency standards, and several have reached the high bar of Passive House certification. One such project is in Accord, New York. The home produces more energy than it uses, thanks to a thoughtful design that integrates solar rooftop panels. As a NetZero building, it is also a healthier, more comfortable, and lower-maintenance home.
Stephanie hopes NRAP will continue to grow, and that their Passive House design projects can expand to include multi-family homes. She feels that encouraging women to seek employment in the EE field needs to start early when girls are still in school and that it's important for young women to have access to mentors.
Women in EE: Going Forward
These leaders provide examples of the diverse options for women in the industry. Despite their underrepresentation in the overall EE workforce, women bring enormous value. They also enable companies to gain new perspectives. For instance, a deep understanding of a customer's viewpoint is important for home performance, and women are heavily involved in decisions about home improvements.[iii] For businesses and for individuals, more women joining the industry is a win-win.
Please see Energy Efficiency Jobs in America to meet the 2.25 million professionals that make up the U.S. EE industry. These jobs are everywhere; 3,000 of 3,007 U.S. counties are home to EE jobs. You can meet rural EE leaders – many of whom are women – in my blog Local Staying Power. We invite you to share the good news about EE jobs, and help spread the word about the importance of the industry. Thank you!
–Audrey Bragg is E4TheFuture's Senior Manager, State and Federal Policy
[i] https://e4thefuture.org/wp-content/uploads/2018/09/EE-Jobs-in-America-2018.pdf
[ii] https://www.usenergyjobs.org
[iii] http://homeenergy.org/show/article/nav/businessbest/id/2118