May 21, 2021 — The HOPE for HOMES Act of 2021 reintroduced yesterday in the U.S. House and Senate will be a smart addition to any infrastructure bill. It aims to advance training and incentives for the residential energy efficiency industry.
With bipartisan support, the legislation enables home performance businesses and related companies to grow and succeed. It offers multiple approaches to help upgrade homes and multifamily buildings via efficiency upgrades. If passed, it will spur much-needed local job creation around the country encompassing service delivery, manufacturing, and retail sales.
The HOPE for HOMES Act proposes $500 million for online training — preparing contractors to significantly advance America's existing home infrastructure — and an $8.4 billion Home Energy Savings Rebate program.
You are invited to sign-on here via our partner, the Building Performance Association (BPA).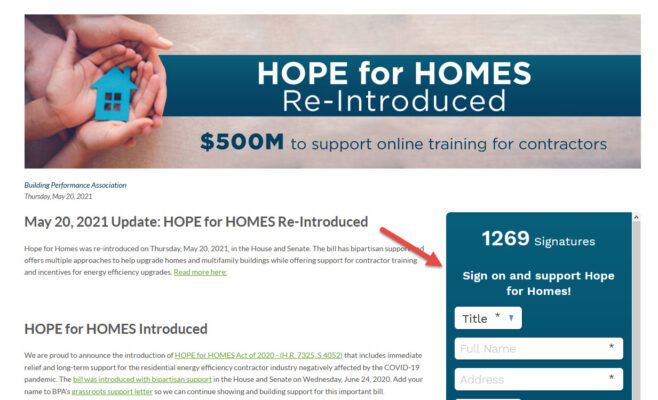 BPA issued this media release with further details. BPA's CEO Steve Skodak said:
"The HOPE for HOMES Act supports easy-to-access training for small business contractors so they can afford to elevate their teams to meet a new demand, a demand for energy efficiency retrofits also spurred by this bill."
Consumers and the climate can also greatly benefit from this important legislation. Lowering energy waste in homes will also reduce harmful emissions and improve air quality both indoors and outdoors.