Apr. 15, 2020 — A sobering analysis of unemployment filings from BW Research Partnership was released today as a memo, in tandem with E2's Clean Jobs America report. The analysis, Initial Impacts from COVID-19 Economic Crisis, is based on claims made during March.
Initial Losses Will Spread, Upending Historical Workforce Gains
"We can project that the clean energy sector has or will lose more than a half million jobs […] in the months ahead if no additional actions are taken to support the industries," states the memo. "Energy efficiency, the largest clean energy sector, had the most job losses in March" representing "two-thirds of all clean energy job losses."
"March layoffs were just the first indication of how badly the clean energy industry has been hit by the COVID-19 and economic crises," states the Clean Jobs America report. "Much bigger job cuts are expected in the months ahead—making it imperative that Congress and state lawmakers seek ways to get the industry back on its feet, especially since clean energy has a proven history of helping pull the country out of economic crises."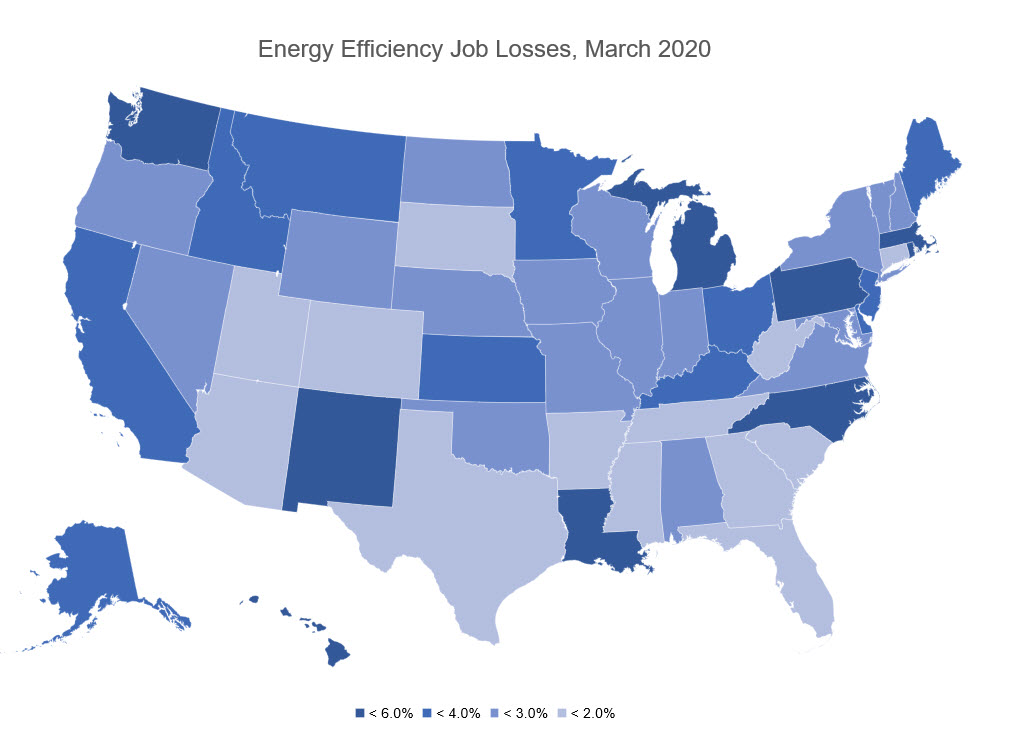 Energy Efficiency Businesses Trying to Survive
"Recent surveys of contractors in key states indicate that employment loss is now 70-80%," said Steve Cowell, president of E4TheFuture, "with a significant number of businesses very concerned about their survival."
Because shutdowns of efficiency sector work followed the "food services and hospitality" sector closing (e.g., hotels and restaurants), most EE job losses are happening in April. We know these losses will be heavy.
Repowering America's Economy in the Wake of COVID-19
Eventually, everyone's attention will shift from the health crisis to the economic crisis. Now is the time to begin a process to help heal the workforce that can help heal air quality and budget woes. As E2 states:
"Clean Jobs America shows why it's imperative for lawmakers to focus on clean energy in economic stimulus packages and other policies aimed at restarting our economy and keep in mind the benefits that will come with a cleaner, more resilient economy in the future."
"This is an industry that simply cannot be ignored. As history shows, it is a proven catalyst for quick job growth in the aftermath of economic meltdown."
See press release.
View BW RESEARCH MEMO.
DOWNLOAD CLEAN JOBS AMERICA.