by Pat Stanton
"We will put our best foot forward."
When I listen to energy efficiency professionals, among their many struggles today I hear determination and grit. People are figuring out what to do next, how to retool and help each other. Online training is a big part of what can happen right now. And new ways of minimal- or no-contact building retrofits are taking shape.
A multitude of voices are asserting we must "build back better" — focus resources and efforts on a clean economy, a healthy and equitable future. Despite the gut-punch reality of job losses revealed last week, EE pros are stepping up to find a possible path forward.

Remember, energy efficiency professionals are in every U.S. county, with varied roles and a business voice that's stronger than you may realize. Ultimately, efficiency is a solution that grows jobs and builds careers as it brings lasting benefits and contributes to local economies.
Work In Progress During Pandemic
Depending on their focus, some businesses are thriving — with adjustments. One is Building Evolution Corporation (BEC) in Worcester, Massachusetts. The small business comprises building scientists who focus on building performance. My team recently spoke with Ken Neuhauser, president of BEC.
"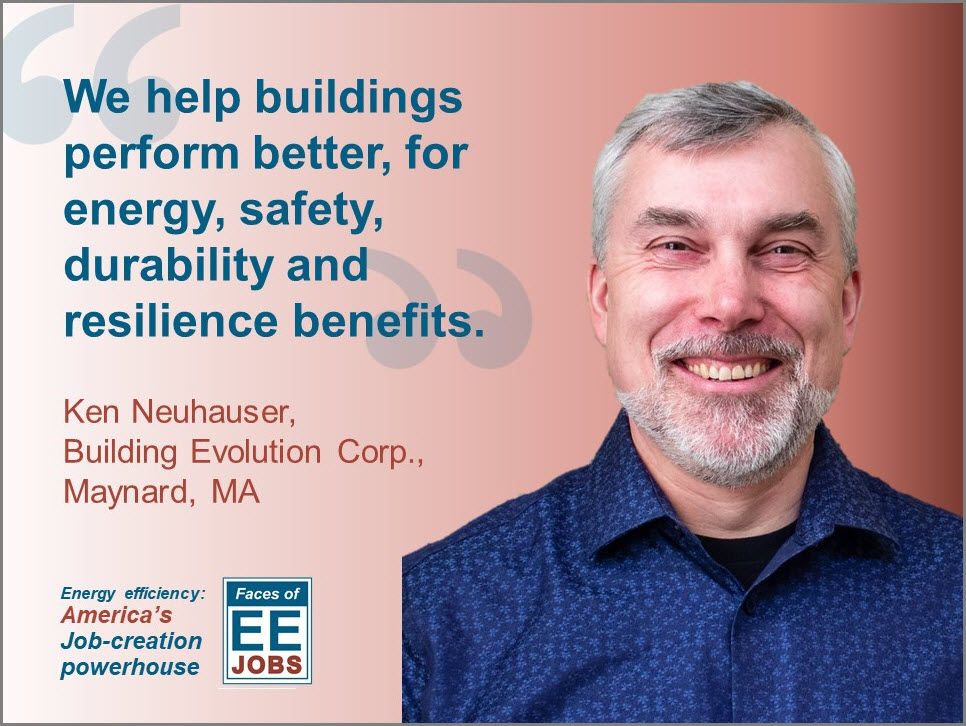 A lot of what we do is design phase," explained Ken. "Projects are still actively planning, rolling right along, racing toward permitting or financial closing deadlines, and are under way to start construction as soon as it is safe to do so."
The BEC team has been working remotely. Although they have seen a slowdown in field work, which "impacted 10-20% of our work," Ken said, "the other 80-90% more than fills our available time."
Ken and his business partner Wes Stanhope had just opened their Worcester office in February, and were enjoying the location. It is a "bit of a drag," Ken admits, to pay rent on a space they haven't been able to use this spring, "but big-picture we are thrilled about Worcester. We are excited to be there, hoping to return soon, and will rearrange the physical space to make it safe."
Before the pandemic hit, Ken explained, "we were actively building up our pipeline and were in a hiring process. We had to change our plan and put people on hold, because we had to work out how we're going to operate — how we can occupy our office, supervise, mentor, and bring people up without face-to-face time."
The team will be joined by two part-time summer interns. It's meaningful to Ken to provide a career path for young students.
Asked about what else motivates him, Ken mentioned climate change and health.
"We're up against a big enough problem that we can't haggle over which is the most important way [to solve it]. We need to reduce carbon fast. We are wholeheartedly motivated to reduce energy use, reduce impact on the planet, improve indoor air quality, improve people's health and the way we occupy spaces. It motivates us personally."
Spirit of Generosity
Faces of EE highlights more than 1,500 efficiency workers nationwide — it shows the world what they do. When asked what matters to them about working in efficiency, these pros often say they want to give back to their communities. Better air quality matters to them, and the satisfaction of improving customers' comfort while helping save money. Their commitment is evident: About one-third are in the industry for 10+ years; some, more than 40 years.
Faces of EE shows what they care about: They care about helping people. I love to hear how much their work means to homeowners and tenants who save money and enjoy better health.
"A spirit of altruism" was very present during the national Building Performance Association virtual conference this spring. (See BPA's COVID resources here.)
In Conclusion: A Force for Good
While the business case for energy efficiency is well-proven, we — like every industry — will have to adjust, innovate, and improve. Every building is unique. Existing buildings have all been altered in some way by occupants, so identifying and executing efficiency projects is often complex.
EE pros like those represented in the Faces of EE are masters at:
• assessing facts on the ground
• making adjustments based on unforeseen circumstances
• finding innovative solutions to new challenges
They are a workforce with the skills and expertise to meet this moment.
As we all navigate the realities of a novel virus, we are confident that EE professionals will do whatever they can to safely build the new clean energy future. Join us in our effort to "build back better" with clean energy. Contact policy@e4thefuture.org to get involved.
–Pat Stanton is E4TheFuture's Director of Policy