We're ramping up to unmask the "unsung heroes" of energy efficiency! Choose how you want to be involved.
Want to participate?
INDIVIDUAL:  You can join as a "Face of EE" independent of any event. Don't miss out! For a great photo, see DIY instructions. To submit your photo and testimonial, contact policy@e4thefuture.org.
ORGANIZATION:  We are seeking partners. Are you hosting a meeting of EE professionals where 20 or more attendees might sign up for Faces of EE?
You can get a "tool kit" to deploy your own photo shoot. Contact us at policy@e4thefuture.org.
EVERYONE:
Follow @FacesOfEE on Twitter to meet some of the more than 2.3 million Americans working in the EE industry.
Engage on Facebook, with #FacesOfEE.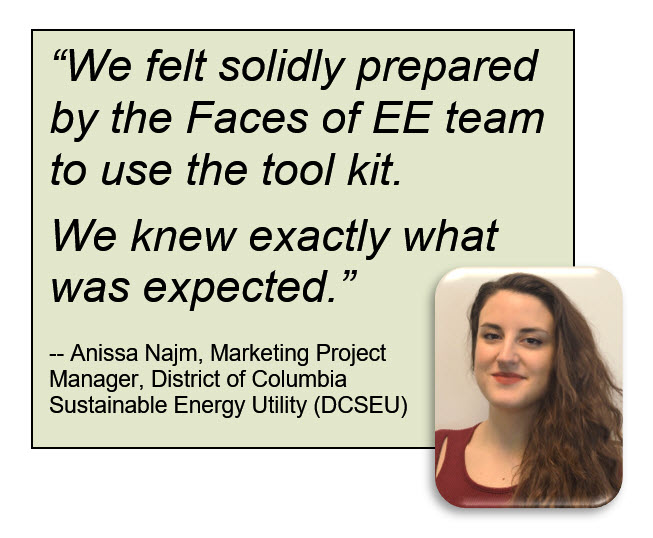 I want to do more!
EDUCATE or ADVOCATE.  Consider joining education and/or advocacy efforts to support the EE industry. Sign up by sending your name to policy@e4thefuture.org with subject "I want to help." Or download state handouts from our resources page.
Photo booths held thus far:
Greenbuild International Conference & Expo, Chicago, IL
Home Performance Coalition national conference & tradeshow, Philadelphia, PA
BuildingEnergy Boston, Northeast Sustainable Energy Association (NESEA)
Midwest Energy Solutions Conference, Chicago, IL; Midwest Energy Efficiency Alliance (MEEA)
Sprayfoam Convention & Expo, Mobile, AL Spray Polyurethane Foam Alliance (SPFA)
Home Performance Coalition national conference & tradeshow, Nashville, TN
Transform, Atlanta, GA; Southeast Energy Efficiency Alliance (SEEA) & the Association of Energy Services Professionals (AESP)
ICAA Convention & Tradeshow, Dallas, TX; Insulation Contractors Association of America (ICAA)
EE as a Resource, Phoenix, AZ; American Council for an Energy Efficient Economy (ACEEE)