Are you an "unsung hero" of energy efficiency? Does your company help people to live better, with smarter use of energy? Choose how you want to be involved.
Want to participate?
INDIVIDUAL:  You can join as a "Face of EE" without a formal portrait by a photographer. For a great photo, see DIY instructions. To submit your photo and testimonial, contact policy@e4thefuture.org.
ORGANIZATION:  We are seeking partners. Are you hosting a meeting of EE professionals where 20 or more attendees might sign up for Faces of EE?
If so, you can get a "tool kit" to create your own photo shoot. Contact us at policy@e4thefuture.org.
EVERYONE:
Use our educational resources.
Follow @FacesOfEE on Twitter to meet some of the 2.2+ million Americans working in the EE industry.
Use #FacesOfEE in your social media posts that highlight workers in this growing field.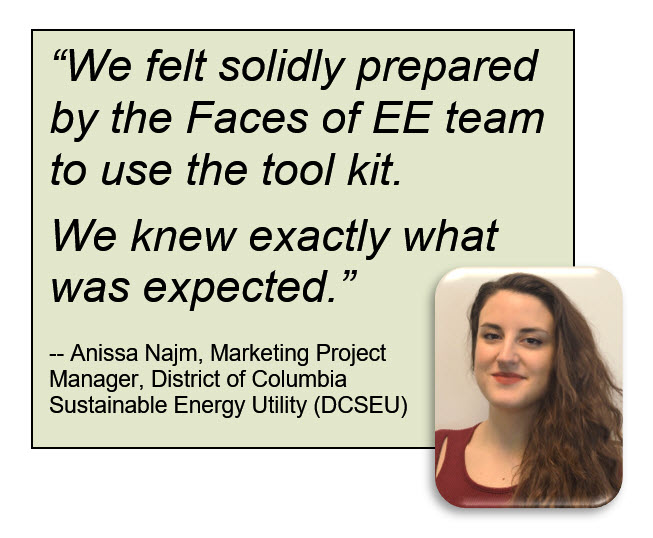 I want to do more!
EDUCATE or ADVOCATE.  Consider joining education and/or advocacy efforts to support the EE industry. Sign up by sending your name to policy@e4thefuture.org with subject "I want to help." Or download state fact sheets from our resources page.
Photo booths where participants joined:
Greenbuild International Conference & Expo, Chicago, IL
Home Performance Coalition national conference & tradeshow, Philadelphia, PA
BuildingEnergy Boston, Northeast Sustainable Energy Association (NESEA)
Midwest Energy Solutions Conference, Chicago, IL; Midwest Energy Efficiency Alliance (MEEA)
Sprayfoam Convention & Expo, Mobile, AL Spray Polyurethane Foam Alliance (SPFA)
Home Performance Coalition national conference & tradeshow, Nashville, TN
Transform, Atlanta, GA; Southeast Energy Efficiency Alliance (SEEA) & the Association of Energy Services Professionals (AESP)
ICAA Convention & Tradeshow, Dallas, TX; Insulation Contractors Association of America (ICAA)
EE as a Resource, Phoenix, AZ; American Council for an Energy Efficient Economy (ACEEE)