May 13, 2020 — A new analysis from BW Research, Clean Energy Employment Initial Impacts from the COVID-19 Economic Crisis, is based on skyrocketing unemployment claims during April. Energy efficiency is reeling nationwide, as it comprises seventy percent of April's stark clean energy job losses — and triple the efficiency sector's heavy March 2020 losses.
"Unprecedented economic impacts of COVID-19 are beyond daunting, for the whole clean energy industry," says E4TheFuture president Steve Cowell, "though the industry is nevertheless setting its sights on recovery and adapting to seek possible solutions."
E4TheFuture is among those working with efficiency companies and utility program administrators to ramp up training and help crews pivot to provide remote assessments.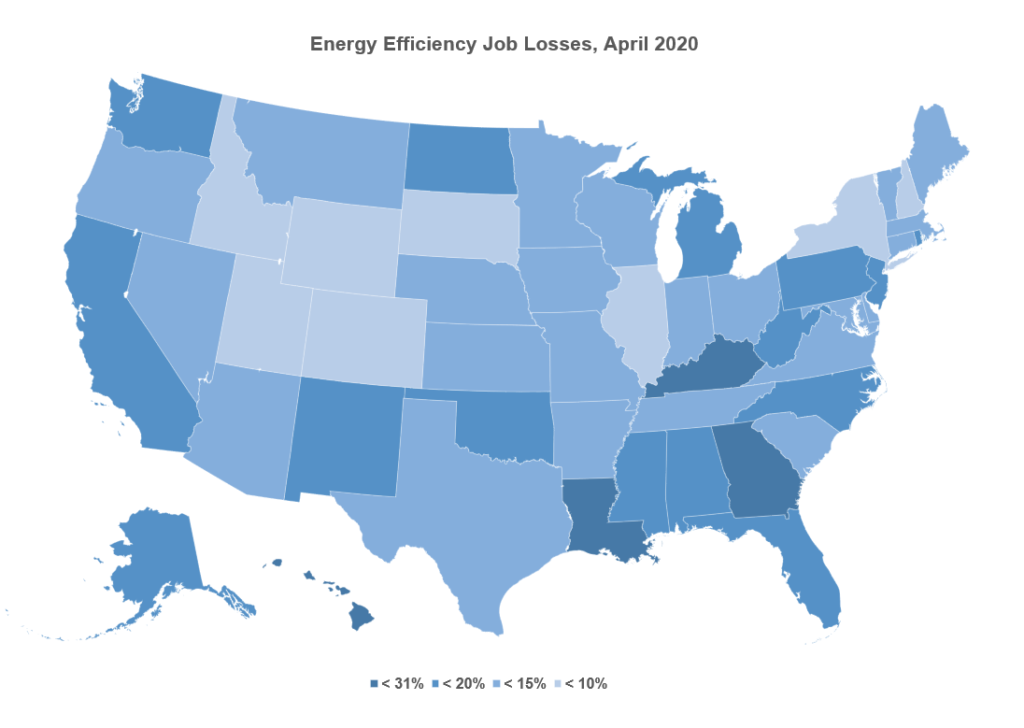 States where the energy efficiency workforce was hit hardest in April: Georgia, Kentucky, Louisiana, and Hawaii
Numbers Worse Than Predicted, Wipe Out Double the 3-Year Workforce Gains
Every clean energy sector is being impacted by the near-term crisis.
"The cumulative losses represent more than double the past 3 years of industry-wide clean energy employment growth, now erased," states the memo from BW Research. While the entire U.S. workforce lost 33.7 million jobs overall, the clean energy sector lost 594,300 since the beginning of the pandemic.
"Our previous projection of a half million or 15 percent of all clean energy jobs lost by the end of June has already been surpassed," says the memo. The new projection is far from reassuring. "Based on that analysis, along with forecasts from clean energy trade groups and reports from individual companies, we conservatively project that the clean energy sector will lose about a quarter of its workforce or 850,000 jobs by the end of the second quarter if no actions are taken to support the clean energy industry and its workers."