November, 2020 — Energy Efficiency Jobs in America illustrates how energy efficiency is a top U.S. employer, with a workforce of nearly 2.4 million Americans before the pandemic hit. From 2016-19 efficiency jobs grew at a strong and steady pace and can do so again.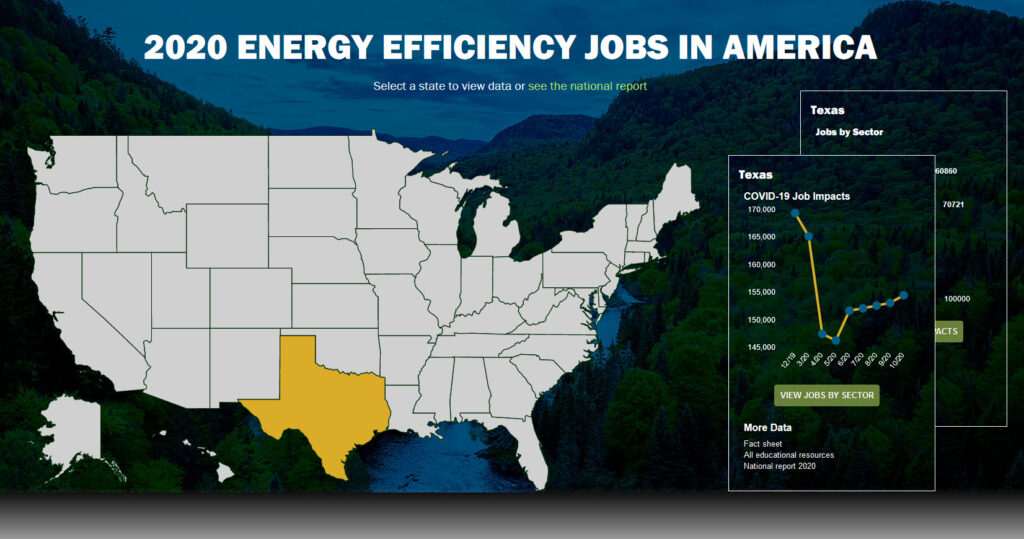 The report explores job losses due to COVID-19 and the economic impact that a federal stimulus for the efficiency industry could have in months and years to come. Stimulus funding for the sector is needed to counteract the pandemic's effects; as a proven, steady job creator, efficiency is unmatched.
Along with stimulus modeling projections and COVID statistics, among the new topics included in the 2020 report are:
an analysis of untapped efficiency potential for commercial, industrial and residential buildings
demographic statistics for each state
equity, wage comparisons and workforce development
climate benefits of energy efficiency
Energy Efficiency Jobs in America includes detailed state fact sheets with compelling graphics and statistics on energy efficiency jobs by metropolitan area, county, and legislative and congressional districts. It is based on data from the U.S. Bureau of Labor Statistics using methodology developed for the U.S. Department of Energy, as well as a comprehensive survey of tens of thousands of businesses across the country. See media release.