by Pat Stanton
Since early September, I have been eager to share findings from our recently released Energy Efficiency Jobs in America report. One key fact that surfaced is the importance of construction work in the energy efficiency (EE) industry. Overall, 2.25 million Americans are employed in EE. Of these workers, 1.27 million are employed in construction.*
Did you know that 1 in 6 of all United States construction workers spend 50% or more of their time on EE-related tasks? People may think that careers in efficiency are limited to changing light bulbs and installing insulation. But we've discovered that most EE construction work is related to installing high efficiency heating and cooling / HVAC systems.

These jobs provide Americans in every state and region with well-paying, stable employment which reduces waste and drives further job creation. Over the next year, construction-related efficiency jobs are projected to grow by an impressive 10.6%.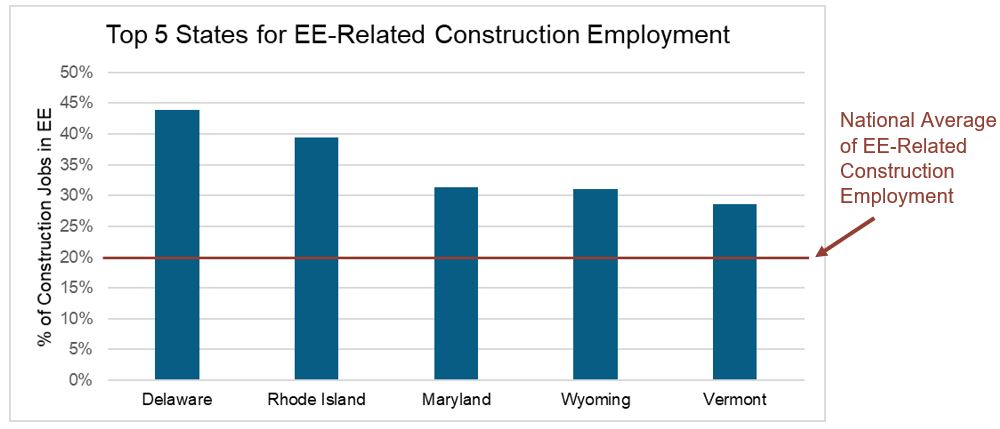 Improving the design and performance of the built environment — businesses, homes, and public buildings — frees American dollars for smart investment and everyday purchases. It enables people to expand their businesses, spend money on essentials, and save for retirement.
EE jobs are located in large states like California and Texas, but also are well-distributed across the entire U.S. As seen in the chart, states like Delaware, Wyoming and Vermont have a higher percentage of construction workers that are engaged in EE than the national average.
Influencing Key Decisionmakers
I am proud to work with my E4TheFuture team to spread the powerful and positive message about EE construction employment. We also engage workers through our Faces of EE initiative. If you work in the efficiency industry, we invite you to join Faces of EE to educate policymakers and others. Your voice can help show that good efficiency policy has a tangible impact, creating excellent U.S. jobs such as those in construction.

For example, I recently chatted with a U.S. Senator who was quite surprised and pleased to learn that nearly 1 in 4 construction jobs in his state were EE workers. When you enlighten legislators, you can provide a welcome perspective and can spur realizations that ripple out into common-sense energy policies.
You can download our detailed facts for each state at no cost. I strongly encourage you to use these materials to educate your legislators about how smart energy policy supports and creates good construction jobs. Also, you're invited to join the conversation on social media this #EEDay2018 October 5, 2018.
Questions? Contact policy@e4thefuture.org.
–Pat Stanton is E4TheFuture's Director of Policy
*Construction activities as defined and represented by NAICS (North American Industry Classification System) categories, commonly used by the U.S. Census Bureau, the Bureau of Labor Statistics and other entities. NAICS was developed as the standard for use by Federal statistical agencies in classifying business establishments for the collection, analysis, and publication of statistical data related to the business economy of the U.S.