by Aileen Villa
Each year on the first Wednesday in October, Energy Efficiency Day is widely celebrated. October 4 is your chance to join the campaign not only to proclaim the immense benefits of energy efficiency, but also to highlight all the work being done to advance EE.
You are invited!
Act Now. It's free to join!
Visit Energy Efficiency Day and join your voice to thousands helping to promote the many EE policies, programs, and other initiatives across the nation and beyond. Follow EnergyEfficiencyDay on X (formerly Twitter) and other social media channels. Use #EEDay2023 or #DíaEE2023 in your posts.
As you may know, great strides are being made toward advancing EE at the national level, such as the historic passage of IRA and IIJA legislation. It doesn't stop there. The EE efforts of states and localities deserve celebration as well!
E4TheFuture staff are taking this opportunity to amplify and learn more about EE programs, policies, and other initiatives in our own backyards. Keep reading to learn more about some of the initiatives from our home states below.
Close to Home: EE Examples in E4TheFuture Employee States
The following initiatives are just a few examples of the wide variety of scale and scope across the different EE efforts being carried out near the seven E4TheFuture staff from Arizona to Vermont.
---
Tucson Resilient Together  In early 2023, the city of Tucson, Arizona published this climate action plan detailing stakeholder conversations across Tucson that culminated in itemized steps to reduce Tucson's emissions to net zero by 2030.
These steps include a focus on energy efficiency, with the following priorities:
to measure and more closely trace energy use
reduce building energy use and make buildings more resilient to power outages
electrify buildings and provide financial assistance to homeowners, renters, and building owners to electrify their existing fossil fuel-reliant properties
decarbonize the electric grid through moving away from fossil fuel power and transition to using clean and renewable energy sources
---
Whole Home Repairs Program  This Pennsylvania program provides funding for non-profits and local governments to administer grants to homeowners (or loans to small landlords) to improve energy efficiency in homes and address any habitability and safety concerns in the home.
Other Pennsylvania EE initiatives include:
---
California Clean Energy Jobs Act  (Prop 39 K-12 Program) In 2021, this initiative awarded more than $1.7 billion to California schools in order to plan and carry out energy efficient retrofits over a 5-year timeline.
Other California EE initiatives include:
---
Mass Save Clean Energy Pathways Program  This program is a paid, 3-month internship that pairs interns with local companies across Massachusetts in the energy efficiency sphere in order to further expand and diversify the state's EE workforce.
Additional Massachusetts EE initiatives include:
---
Appliance Efficiency Standards  In late 2022, the state of Maine set these standards to ensure that residential and commercial products are good quality and reduce water and energy consumption to help Maine meet greenhouse gas reduction goals.
Other Maine EE initiatives include:
---
Home Energy Loan Program  Based in Vermont, this program provides an opportunity for low- and moderate-income homeowners to receive zero interest loans to finance energy efficient upgrades.
An additional Vermont EE initiative: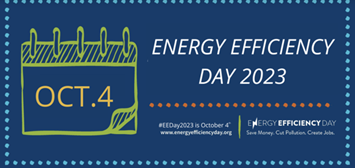 Faces of EE
With all the incredible new and existing EE initiatives, it's no surprise that there are over 2.2 million professionals working in this sector. Please visit Hello Faces of EE and @FacesofEE to see and amplify the brilliant folks carrying out this work.
Use #EEDay2023 or #DíaEE2023 in your social media posts to tell us about EE initiatives in your area, or use #FacesofEE to send a shout out to EE workers you know! If you want to tell us more, we invite you to write to policy@e4thefuture.org. See you on October 4th!
–Aileen Villa is a Policy Fellow at E4TheFuture