by Pat Stanton
I'm proud of my team's work on our seventh annual energy efficiency (EE) jobs report. Energy Efficiency Jobs in America in 2023 shows 2.2+ million efficiency workers, a number expected to grow annually with new workforce development and training happening across the country.   This report focuses on the specially trained builders, electricians and other skilled professionals who focus on making our buildings, appliances, factories and infrastructure run on less energy.
Providing access to consistently-presented EE workforce statistics at regular intervals during this crucial time serves as a key baseline for comparison, as public and private sector infrastructure investments continue to rise.
Energy efficiency jobs represent the largest portion of the overall U.S. clean energy workforce –the largest portion of the entire U.S. energy sector, except for vehicle-related jobs. EE creates inherently local jobs that cannot be outsourced. Hundreds of thousands of workers design, install, repair, and manufacture essential components such as insulation, ENERGY STAR appliances, HVAC systems, building energy controls, and more.
States Moving Up, Young Workers Moving Into Careers
Curious to learn how fast EE jobs are rising in the U.S.? The state fact sheets provide that data, and the National Summary shows top states for total jobs and growth.
Top states for growth: Nevada leads all states for job growth at nearly seven percent, with 769 more energy efficiency workers than last year (12,173 total jobs). The runner-up is New Mexico at just over six percent (6,059 total). Oklahoma came in next (with 14,142 total), followed by New Jersey at more than five percent growth (1,747 more energy efficiency workers than last year; 36,332 total). Rounding out the top five is Idaho, with just under five percent growth. Idaho gained 428 EE workers compared with last year (9,112 total jobs).
Most states have far more EE workers than the number of workers in other energy sector jobs. Three states "moved up" this year: The EE workforces in Nebraska, Kentucky, and South Carolina all rose from the second-largest to the largest energy sector in their states, when compared with our 2022 report.
Age is among the demographics covered in the report. A plethora of job openings, including many for entry-level positions, has resulted in an EE workforce that is significantly younger than the national average.
I am thrilled to see energy efficiency creating opportunities for a new generation of workers!
Local Jobs in 99% of Counties
EE jobs are in nearly every county. Which of your neighbors are #FacesOfEE? Look up your county in our state fact sheets to see how many energy efficiency workers reside near you. See the real people and real jobs, the faces and words of EE pros in every U.S. state.
Workforce development and training initiatives are popping up nationwide which is a very good thing, because employers surveyed in 2022 admitted having trouble finding the skilled, qualified EE workers they needed.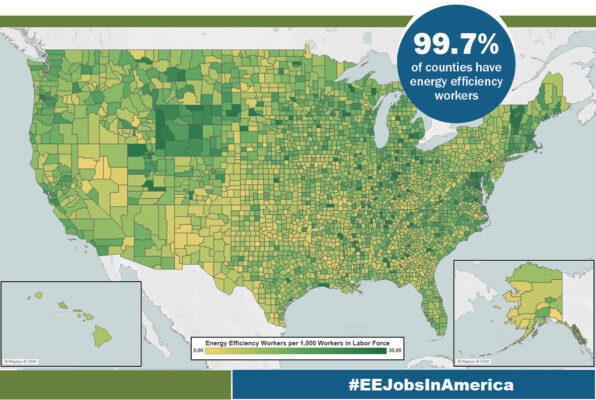 A Word About Policy
Continued funding for government-led EE activities is necessary for reaching goals and maximizing the benefits of EE. Investing in this industry benefits all local economies and communities. Energy Efficiency Jobs in America offers a summary of policy recommendations with key points.
A Deep Dive into Each State's Workforce
I hope you will dig into the report's important statistics, and help spread the word about both the power and the necessity of a strong EE workforce. You'll find details for all 50 states and the District of Columbia. Each fact sheet includes:
Total jobs per state
Comparison with other in-state energy sectors
Business sizes and total number of EE businesses
Breakouts by type of work
Percentage of veterans
Percentage of construction workers
Demographic data
Number of EE jobs by county
Find out more in the Energy Efficiency Jobs in America FAQs. Please share the report with others, and reach out to my team with any questions at policy@e4thefuture.org.
–Pat Stanton is Executive Director of E4TheFuture