by Pat Stanton
It can be tough to get the ear of a policymaker. One of the best ways is by sharing stories of how their work can affect real people. Our "Faces of EE" initiative collects photos and testimonials of energy efficiency workers across the U.S. Faces of EE promotes the fact that "EE" means more than clean air and a stable grid; it means jobs and economic growth.
Showing policymakers real people's stories helps ensure that these voices are heard. We also provide opportunities for EE professionals to meet with members of Congress to educate and advocate for smart energy policy.
In mid-2017, E4TheFuture launched Faces of EE to illuminate the broad reach and impact of this vital industry's workforce. From insulation installers to HVAC experts, from program managers to technicians, we are revealing an industry with clout as well as heart. More than 300 energy efficiency professionals appeared in the first "flash" at a Nashville HPC conference. I am thrilled to say we will double that number before the new year. (Meet them on Twitter @FacesofEE.)
Get Your Goods.
My team has begun setting up resources for you to use. Find your state. Get educational materials like fact sheets to bring to meetings. Tell us how you use them, and we can boost your signal. We also are happy to work with you to develop co-branded educational materials.
Need a webinar? Want to set up your own photo shoot? We can help! Visit our Faces of EE pages or contact policy@e4thefuture.org.
Our Industry Cares About People
Look at the Faces of EE. See what hundreds of caring workers say about what matters in their life. For the vast majority, their job means much more to them than "just a job."
I'm proud to be among colleagues who–to a person–approach work with a "roll-up-our-sleeves" spirit. Keeping a can-do attitude in uncertain times guides our own small team, our partners and our allies. For a great example, see the ACEEE's new campaign: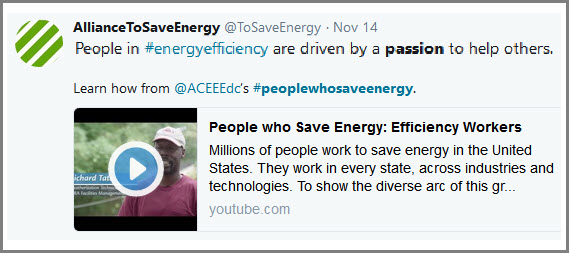 This ethic is also deeply embedded in the daily life of myriad small companies and organizations delivering EE services and products. People know it's all done for the greater good.
Let's work together to raise clean energy and energy efficiency in the U.S. Contact us today if you want to collaborate. Smart public policy helps everyone!
–Pat Stanton is E4TheFuture's Director of Policy