by Carina Wallack
"We are talking about the future, our kids and grandkids. Energy will always be relevant," says energy efficiency professional Yashar Ebady. "It is imperative that we collaborate on all levels around the topic of energy."
Yashar is right. In today's world energy, and jobs in energy efficiency, will always be important.
See Yashar Ebady's story in his own words below.
Over 2.1 million Americans work in the energy efficiency sector. EE workers are in over 98% of all U.S. counties.
More jobs are needed to meet future demand. If we were to retrofit all 111 million residential units that were built before 2000, we could save $66 billion on energy bills each year and reduce carbon emissions by 242 million tons per year. Upgrading all those dwellings would also create over 1 million jobs for a decade.
For those looking to join the work of saving energy in the built environment, many career paths are open. Opportunities range from manufacturing to construction to software engineering.
Examples of professionals who work in energy efficiency: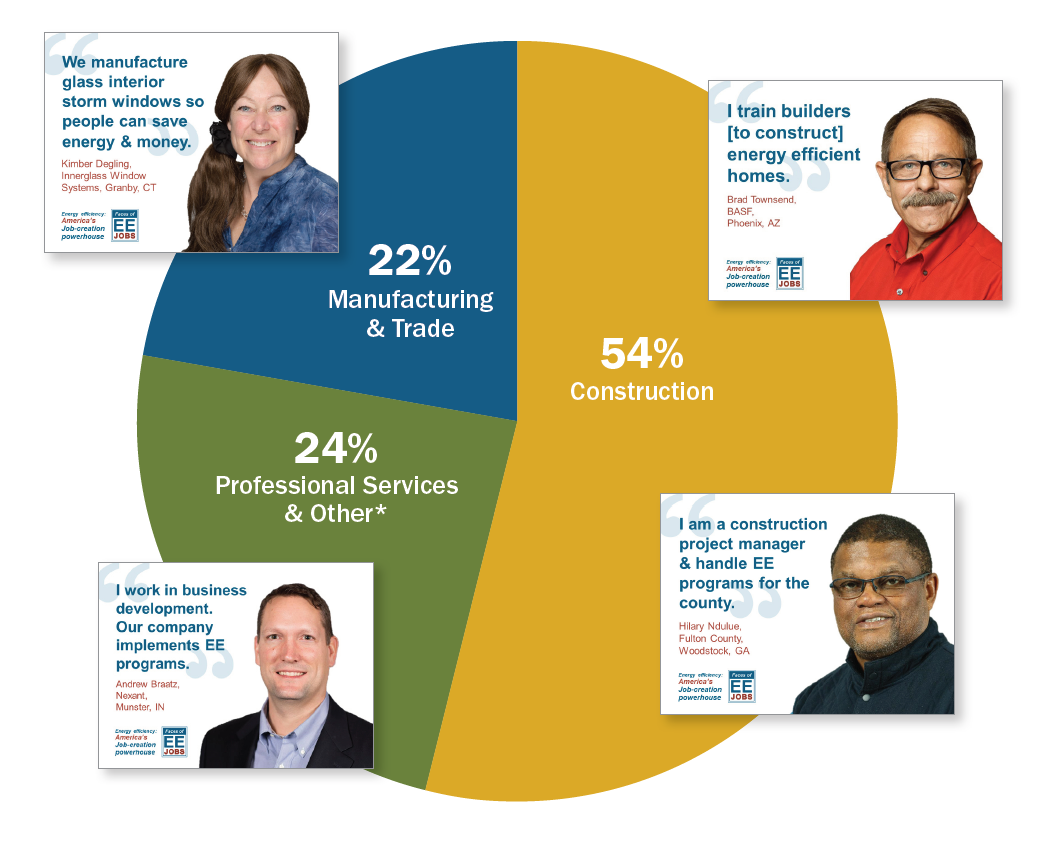 Clean Energy Career Maps provide visualizations to show various routes that energy efficiency professionals follow. Choose from among three maps to see 150 different example paths:
• Green Buildings
• Climate Control Technology
• Solar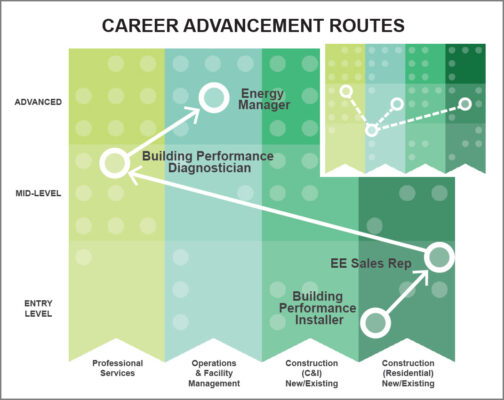 See BPA's video on career maps.
As you can see, energy efficiency options extend in multiple directions, from entry level to advanced.
---
Yashar's Story
---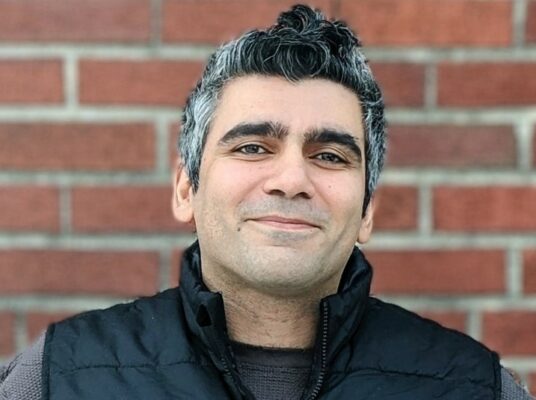 I spoke with Yashar Ebady to learn about his journey in the industry.
How did you get involved in energy efficiency?
Since I could remember I wanted to help people in any way possible. Throughout my life I realized a lot of people have a tough time with money. I ended up attending Penn State for two years studying economics and finance. After a break, I decided to go back to school for Energy Management so I could save people energy, which would also save them money. I then began working for weatherization companies. I joined an implementer named Conservation Services Group. Here, I was able to work with contractors and learn along the way.
Can you describe some of your experiences working in energy efficiency?
The company I most recently worked for is a software company that developed an auditing tool geared toward the commercial energy auditing space and ASHRAE Level 2 Audits. This tool can be used by commercial building owners, implementers, utilities, and city-wide government agencies to perform energy audits, benchmark and analyze their buildings, create measures, and compare savings.
What is your favorite aspect of working in energy efficiency?
Constant collaboration and problem solving is a big part of each position I have held. This industry is still new, and we are still seeking solutions for some problems. Energy efficiency standards and energy savings tools are being updated constantly. Outreach and meetings between contractors, city officials, state-wide agencies, implementers, the utility sector, manufacturers, homeowners, and realtors are all important. My favorite part of the job is interacting with a multitude of diverse individuals. I learn from every conversation and am always amazed by the ideas and goals for the future.
How can we get more people to work in energy efficiency and build a more diverse industry?
We need more training and outreach. From contractors, to implementers, to manufacturers, we need everyone to participate and bring all these people together to address a common goal. We need more leaders, more startups, more training at the local level, and more teams with a "glass half full" mentality.
---
Thank you, Yashar for your time sharing your story with me – and thank you to all the energy efficiency professionals doing the vital work of improving buildings and lowering emissions!
–Carina Wallack is a Senior Policy Analyst at E4TheFuture