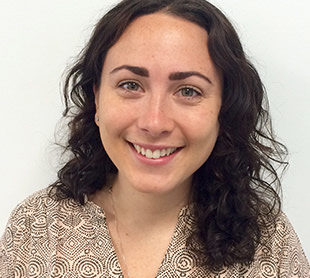 Emily Duff began as a policy fellow at E4TheFuture in July 2016. After just a week of training she was soon immersed in a half dozen policy initiatives and research projects including the National Energy Efficiency Registry (NEER). She also assists with social media outreach.
What do you like most about your job?
Emily: I love that I get to work on so many different projects E4TheFuture is involved in. I'm constantly assigned to new tasks which keeps life exciting at the office. The variety of projects I'm assigned to also means that I work with almost every member of the staff on a daily basis. I've learned so much from them already!
How did you learn about the position at E4TheFuture, and why did it appeal to you?
Emily: I found the E4Fellow ad on Indeed.com while searching for a job in the environmental/clean energy field. I immediately knew it was what I sought. Also I had been hoping to move to the Boston area. Testimonials from previous fellows when E4TheFuture was Conservation Services Group definitely got my attention and made the position sound appealing.
How did you get interested in clean energy?
Emily: I'm from Vermont, a state that prides itself on being "green," so I kind of grew up being environmentally conscious. When I started college I was (like almost all of my friends), completely undecided on a major. My sophomore year I took a class on climate change and it really affected me. That's when I knew that I wanted to focus on environmental issues like climate change mitigation. Climate change is directly related to the way the world extracts, produces, and consumes energy and that's what has shaped my career goals toward clean energy.
Were you involved in extracurricular college activities?
Emily: Yes! At the University of Wisconsin-Madison I got involved in grassroots organizing student groups including WISPIRG and ReThink Wisconsin. The work mostly consisted of sustainability and environmentally focused initiatives. I also volunteered a couple of times a week at the Natural Heritage Land Trust, a local Madison-area land trust. It was a really small office with only four full-time staff. The experience provided great exposure to the inner workings of a non-profit.
If you could travel anywhere in the United States, where would you go?
Emily: I really want to go visit any and all of the National Parks. Although I'm an avid international traveler, I haven't visited any U.S. National Parks! I'm always jealous of my older sister who lives in Colorado and travels widely. She just got back from a trip to Glacier National Park and her pictures are amazing. I definitely need to go out there and experience it for myself.
If you could meet anybody from history, who would it be?
Emily: I also majored in history at Wisconsin, concentrating in early European. My favorite dynasty is the Tudors, so I would like to meet either King Henry VIII or Queen Elizabeth I. They ruled Britain during such an interesting and wild period of history, when monarchs had complete power over political, social, and religious policies. The transformation from absolute monarchy to contemporary democracy has always been of particular interest to me.