by Steve Cowell
Energy Efficiency Jobs in America explores the workforce that comprises the largest part of U.S. energy sector employment. It also shows how energy efficiency has the breadth and depth to tackle our thorniest issues. Efficiency holds the promise of solutions for climate, equity, and economy.
Energy efficiency businesses across the country were gutted by the pandemic. They continue to be impacted by economic and workforce challenges. Yet day after day, efficiency workers — who are unsung heroes — rise to give their best effort.
They:
help families to save energy and money
cut pollution and reduce greenhouse gas emissions
boost equity, health, and resilience — both community and individual
You'll find granular details for all 50 states and DC in Energy Efficiency Jobs in America. In 2021, E4TheFuture's work with E2 and BW Research Partnership provides rock-solid data analysis that highlights the major benefits of strong energy efficiency and clean energy policies.
Vital Statistics
For each state:
energy sector size comparison
COVID-19 impacts on EE employment
potential for industry recovery and growth – three new metrics
demographic, wage data, and number of EE businesses
% military veterans and construction workers
# full-time workers required 2022-2030 to improve 80% of residences for a clean energy future
See job numbers by:
Congressional and state districts
County and metropolitan areas
Sectors (job type)
Supply chain categories
Workforce development, training and career paths are highlighted, with entry-level wage comparisons.
This Year's Focus
Clearly presented for 2021, you can see the climate and economic benefit potential of improving older dwellings in the U.S.
Retrofitting all 111 million residential units constructed prior to 2000 would create over a million full-time jobs. It would save $66 billion per year in energy savings and pump billions into the economy as consumers experience lower energy bills. Every community can benefit.
There is so much work to be done! As the most labor-intensive and largest energy sector job creator, energy efficiency is essential for achieving results on both climate and economic recovery.
Paired with renewable energy, efficiency is enormously impactful. Efficiency will play a critical role in achieving carbon-free electricity goals. When combined in a clean energy portfolio with wind, solar and storage resources, energy efficiency more than pulls its weight.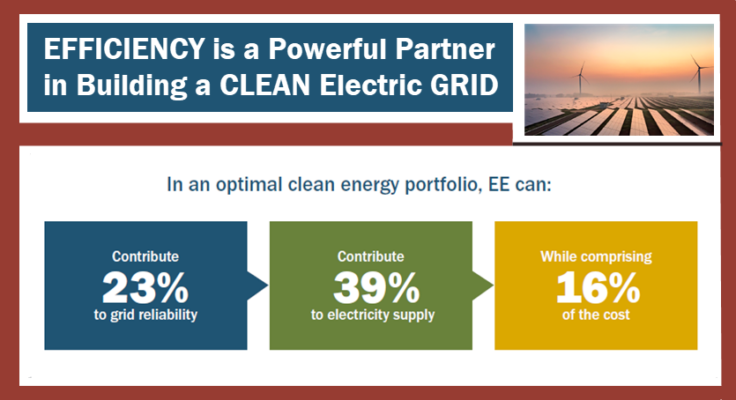 As the U.S. ramps up the clean energy transition, this 2021 report will provide an important benchmark for measuring progress.
Contact policy@e4thefuture.org with questions, or to discuss any E4TheFuture initiatives.
–Steve Cowell is President of E4TheFuture