by Audrey Bragg
Energy Efficiency Jobs in America shows that energy efficiency (EE) jobs drive energy employment, representing nearly 35% of all U.S. energy-sector workers. One may assume that most of these opportunities are in major cities, as rural areas offer fewer job options in general. However, certain industries create a larger number of local jobs providing employment for Americans outside metro areas. These jobs can transform people's lives and be fulfilling careers.
EE is one of these vital industries, offering 2.25 million jobs.[i] You may not realize, but EE jobs are everywhere. In fact, 99.7% of U.S. counties have energy efficiency jobs. Yes, 3,000 out of 3,007 counties employ EE workers.
While our country's 25 largest cities are home to 900,000 EE workers, rural areas have plenty of EE jobs as well. I was surprised to learn that more than 300,000 rural-based Americans fill roles in the EE workforce, far outnumbering all U.S. dental hygienists (city and rural combined). The number of rural EE workers also easily exceeds all U.S. public relations specialists, and all U.S. graphic designers.[ii]
These jobs are everywhere, and nearly 50% have five or fewer employees. These are local "mom and pop" businesses that help their community save energy, while providing purposeful work.
Faces of EE Find Meaning in their Work
It's no surprise many Americans who work in EE often stay. The industry provides meaningful work and good salaries. EE becomes a career and a way of life.
Our Faces of EE initiative highlights more than 1,200 EE workers, representing all 50 states and the District of Columbia. When asking these professionals what matters to them about EE, participants often cite a desire to give back to their communities, the ability to improve air quality, and the satisfaction of improving customers' comfort while helping save money.
Their commitment to EE is evident: About one-third have worked in the industry for 10+ years. Some boast 40+ years of career experience! Many of these EE professionals live in rural areas rather than major cities and work for small businesses and community organizations.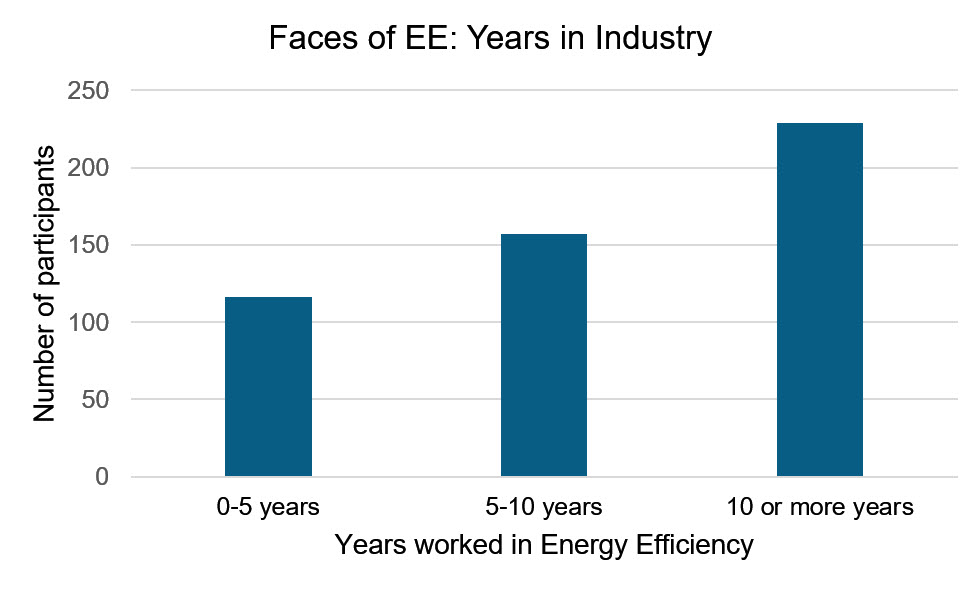 Appreciating Rural Pros
Faces of EE participants are committed to their work because they know how important EE is for their communities. After reading the American Council for an Energy-Efficient Economy's (ACEEE) recently released Reaching Rural Communities with Energy Efficiency Programs report, I understand that rural EE workers face many obstacles. Their jobs are difficult, but this group of professionals remains dedicated to improving the lives of others.

Join Us!
If you work in the EE industry, we invite you to join Faces of EE spotlighting EE workers. Also, please help spread the word about our recently released Energy Efficiency Jobs in America report and join the conversation on social media channels this #EEDay2018, October 5.

By supporting strong EE policy, you not only promote cleaner air and lower energy bills, you also support job creation in the cities and towns across America.

–Audrey Bragg is E4TheFuture's Senior Policy Analyst