by Steve Cowell
"A year like no other." Say it anywhere, and you see nods of agreement. In moments of solidarity you can muster a rueful half-smile. We all know that the impacts of 2020 on people's lives are profound. What about energy efficiency professionals specifically? This community of workers is very much on my mind.

EE Jobs in America: COVID-19 Impacts
As you might imagine, I have more to say than will easily fit into this quick read. At E4TheFuture, we are grateful to partners and allies who worked hard this year to keep our industry strong, despite enormous challenges. See below for an update on "back-to-work" protocols for those who perform field work such as building retrofits.
Every month since the pandemic began, we have published a clean energy workforce update with our partners E2, ACORE, and BW Research Partnership. It highlights job losses and gives details about the trajectory of a slow-motion, insufficient rebound.
In November we released the fourth annual Energy Efficiency Jobs in America. It covers a lot of territory, both geographic and statistical. E4TheFuture and E2 dramatically retooled the report and built an interactive website with state-specific data. I'm thankful for our partners and proud of my team's efforts!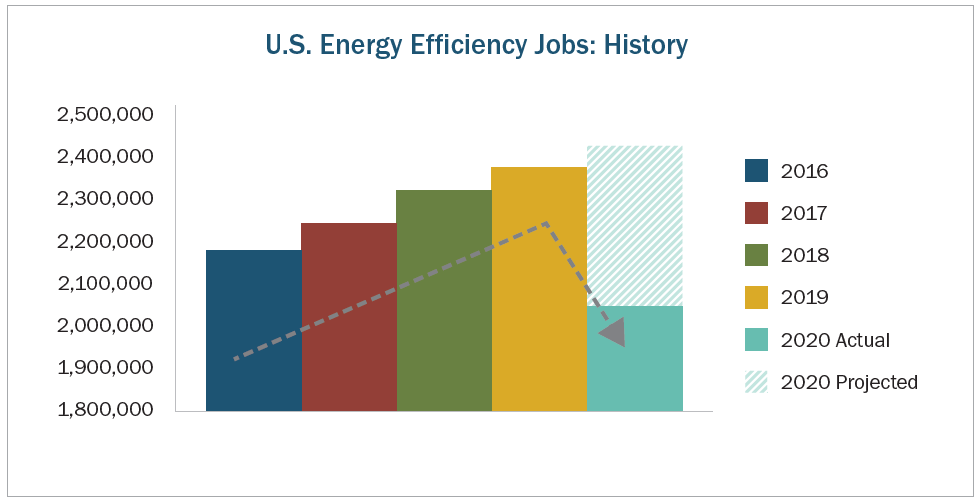 Back-to-Work Safety
Energy efficiency pros tend to be passionate about helping people, and I am passionate about helping EE pros help people. The dilemma faced by EE companies and workers in 2020 began as an operational nightmare that I felt on a gut level. Questions of how field staff would be able to perform their duties in a "lockdown era" haunted me for weeks.
I am grateful to know dedicated people with bright minds who shared my commitment to finding a way to function under the most difficult circumstances, and that I was able to support a major "back-to-work" effort which was broadly successful. It began in the Northeast coordinated by Eversource and supported by the Building Performance Association who brought it national, working with U.S. Dept. of Energy.
See an award bestowed by NECEC for this work: summary here.
Our Nation: Looking Forward
Executive office transitions are challenging, at best. The current transition is uniquely difficult due to national health, social, economic and climate crises. By appointing climate change policy experts John Kerry to his national security team and Brian Deese to his economic team, President-elect Biden is upholding his commitment to approach climate as a central component of governance.
I have worked with Kerry and Deese primarily while leading E4TheFuture's root organization, Conservation Services Group. Both men have our great respect and support.
As solutions are brought forward, E4TheFuture is proud to work with the teams at E2 and BW Research to provide credible trends analysis on jobs and economic benefits of strong EE policies that were included in Biden campaign proposals such as energy efficiency upgrades to two million homes. We aim to provide experienced experts with quantitative resources for their important work.
The most labor-intensive and largest energy sector job creator, energy efficiency is the essential cornerstone for achieving results on both climate and economic recovery. Efficiency is a subset of clean energy, widely recognized as the most useful and least polluting path forward to power America, and the world.
Contact my team at Policy@E4TheFuture.org if you want to work with us on any of our initiatives. Onward to 2021!
–Steve Cowell is President of E4TheFuture