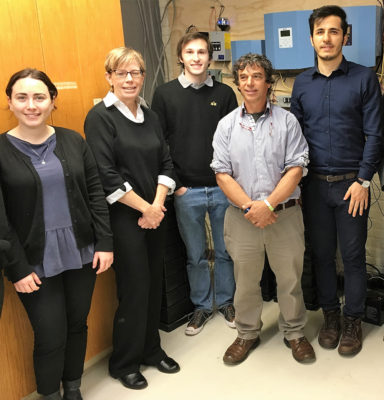 by Emily Duff
In mid-December, E4TheFuture staff braved the New England winter to tour an electric generation project at Clark University in Worcester, MA. The nickname "nanogrid" arose because the setup is smaller than a typical microgrid. Professor Chuck Agosta conceived of the on-campus project and is leading its development and ongoing evolution. We were all eager to learn about this nanogrid. (Plus, I welcomed the chance to get away from my desk!)
After arriving at the physics building for introductions, the group headed to the roof to see the technologies that comprise the project's electric generation. Eight solar panels, two small wind turbines and two storage batteries (located downstairs) simultaneously power the lab and will soon provide clean energy to more rooms in the building.
Left to right: Emily Duff, Susan Buchan, Santiago Deambrosi, Prof. Chuck Agosta and Amir Abedini
Benefits of Tiny-Scale Grid
I began to realize the benefits of working on such a small scale. The project enables Prof. Agosta to experiment with the technologies and challenge his students to complete innovative engineering assignments. These may relate to technology integration and developing software to track electrical output, or other initiatives. From a laptop, he was able to use the students' software to control a light fixture. If you really want to "geek out," ask his team about their work to power devices with direct current (DC) power only, avoiding the loss of electricity that typically occurs during the conversion to alternating current (AC). (See here for information on the rise of DC power.)
The Clark nanogrid has a live website that shows how it's producing in real time. Dynamic graphs display how much power is being produced, from what sources and how it interacts with the larger grid.
Into The Future
It was exciting to see the nanogrid project in action, integrating multiple clean energy technologies with software that knows the right time to capture solar or charge the batteries to be used later. I learned that Prof. Agosta shares similar goals with E4TheFuture, including an overarching goal to determine how much of the power we use can reliably come from renewable sources.
This trip reaffirmed my commitment to E4TheFuture's mission. Our team was engaged and excited by the tour, as we hope to support an integrated clean energy strategy in the Worcester community. I enjoyed meeting people from Clark University, the Worcester CleanTech Incubater (WCTI), National Grid and Worcester Polytechnic Institute (WPI). I hope to work with them to reach shared goals. If nothing else, at least now I have seen a real nanogrid!
Emily Duff is a Policy Fellow at E4TheFuture