by Carina Wallack and Pat Stanton
Care about economic and environmental well-being? If so, you realize that our most valuable assets are sectors that create jobs quickly while cost-effectively reducing emissions for the long haul. Building energy efficiency investments accomplish this and more.

We need all the solutions below, but building energy efficiency comes with the fewest tradeoffs. Why exchange one benefit for another, when you can achieve all goals simultaneously? In a recent analysis of different decarbonization strategies, building retrofits were the only one that scored "high" on five jobs and economic metrics.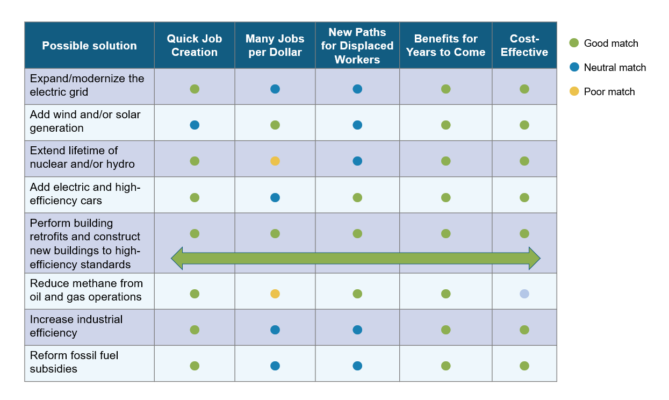 Energy efficiency "runs the table" as a solution for jobs, economy, and climate.*
Quick Job Creation
Investing in building efficiency has incomparable benefits in terms of job creation and economic stimulation. Energy efficiency measures, such as insulation, air sealing, HVAC upgrades, and lighting upgrades involve mature, proven technologies. This key advantage opens the door to creating jobs with established steps for training new professionals. Employing people to retrofit buildings avoids nascent technologies with associated steep learning curves. Energy efficiency may be new to those entering the field, but successful precedent for efficiency means that jobs can be rapidly created, and new employees can be quickly trained.
More Quality Jobs per Dollar
In terms of number of jobs created per dollars spent, building upgrades provide strong near-term value. These projects are often very labor intensive. Investing in a more efficient building stock can stimulate the economy quickly, which is particularly important for economic recovery.
New Paths for Displaced Workers
Many efficiency companies offer on-the-job training to ease the transition for newcomers. Efficiency provides former fossil fuel workers a way to apply their skills to a new career, both in the field and in the back office. Many skills used in fossil fuel jobs apply to energy efficiency jobs. Investing in efficiency is key to a just transition toward zero emissions meaning workers will be included, rather than excluded, in the jobs required for decarbonization.
While efficiency may be a new field, many skills are transferable. People with experience in software development, engineering, construction, architecture, manufacturing, and sales will find a welcoming new path in the efficiency sector. Many "soft skills" learned in previous roles also fit well. For instance, many veterans find work in efficiency following military service. Leadership ability and experience with problem solving in high-pressure situations makes them well suited for careers in efficiency, where every building is different and adjusting to the unexpected is a daily encounter.
Benefits for Years to Come
Building efficiency retrofits provide enduring, compounding benefits. Buildings alone are responsible for about 40% of U.S. energy use. Retrofitting our current building stock and strengthening building codes for new construction will lower harmful emissions. In this case, saving energy also means saving money. More efficient buildings will reduce energy bills across decades, relieving financial burdens and freeing funds for essentials–so crucial for low-income households juggling priorities. Because 80% of U.S. buildings are more than 20 years old, buildings needing upgrades are ubiquitous.
Jobs in energy efficiency are found in every region of every state. An analysis by BW Research and E4TheFuture shows that retrofitting all U.S. homes constructed before 2000 would create over one million full-time jobs for ten years while saving $66 billion on energy bills and reducing emissions by 242 million tons. Talk about long-lasting benefits!

Cost-Effective Now
Building efficiency retrofits are a cost-effective climate solution today. Years of knowledge, proven technologies, and an experienced workforce with documented cost-benefit analysis for decades make efficiency a low-risk investment. Energy saved is cheaper than renewable energy created. And decarbonizing with efficiency unlocks more value from other climate solutions. See Pat's blog on economic and social costs associated with all electricity generation. Energy efficiency measures are relatively inexpensive, yet they save a great deal of money and energy.
Retrofitting our buildings is equal parts a solution for climate mitigation and economic stimulation. It is a true example of accomplishing multiple objectives at once. When it comes to cost-effectively creating jobs and lowering emissions for years to come, building retrofits do it all.
For more information contact policy@e4thefuture.org.
–Carina Wallack is a Senior Policy Analyst at E4TheFuture; Pat Stanton is Director of Policy.
*Adapted from International Energy Agency (IEA) "A sustainable recovery plan for the energy sector."